Hey everyone! with the upcoming release of Cartoon Networks Journeys VR we want to share a few things from the project along with some brief info about our process.
We do most of our 3d modeling in Blender. Blender is an open source 3d application with a professional-level toolset and capabilities. We use it for making our low/high poly 3d models, animation, sculpting, baking textures, physics simulations, and a lot of other things. The recent Blender 2.8 update is out now so check it out.
Here are a few GIFs of the sand structure models that rise out of the ground. These were taken from the Blender viewport and are the final models we used in the VR experience.
We created shapekeys in Blender that were used in Unity in combination with transform and scale keyframing to create the animations for the sand structures.
We then created a shader that uses a secondary UV channel along with some animated texture mask to make our toon transition for each sand structure. We could then create custom animations to control how fast the sand structure would transition from a sand to cartoon.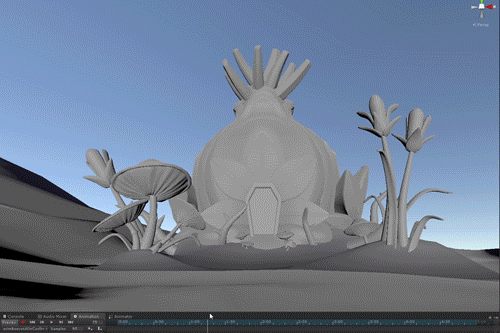 Here is the final result captured from Unity. Each journey has an associated sand structure that can rise, fall and will transition into a toon version once the player has committed to that journey.
We will have more of these short posts leading up to the release of Cartoon Network's Journeys VR which will be released on October 1st on Steam. Oh and did we forget to mention it's free to download! Check it out!